2015 events
March 6: Traci Taylor Book Signing
A dear friend of the Plum Hill family, Traci Taylor, will be signing copies of her new book "Voices from the Rainbow" from 5 PM-7 PM in our tasting room. We encourage all of our friends to come out, meet the author, and pick up your signed copy. If you already have an unsigned copy, bring it and she will sign it. Have a signed copy? Come and say Hi and have some wine!
March 13-15: SIP McMinnville
McMinnville SIP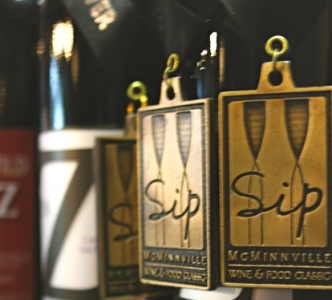 The McMinnville SIP Classic event is just around the corner! Watch some of the best Chefs in the Northwest demonstrate their skills. Talk with winemakers and brewers and learn the intricacies of their trade. Visit with the artisans and view their fine work. First 1000 attendees will receive a free wine glass on Friday. See you at the Evergreen Space Museum the 13th- 15th. We will be there pouring our wines along with several other wine and food vendors. This is a benefit to raise money for the St. James Catholic School. Tickets and information can be found in the link above Hope to see you there!
March 19: Ladies' Night
We will be hosting a special Ladies' Night; Spring 2015 Fashion Ideas: Look your best for a beach trip, NW sightseeing, date night, wine tasting and lunch with friends. Featuring a fashion show from Tory's place, 50% - 65% off Vintage CAbi sample inventory and Mary Kay. Complimentary wine tasting and snacks. Open from 5-8pm.
March 27: Pouring at Urban Decanter
We will be the featured winery on Friday, March 27th from 6 PM to 9 PM in beautiful downtown Forest Grove at Urban Decanter. Come say Hi and taste our wines including new releases.
St. Patty's Day & Easter Gift Shop!
We just refreshed our front gift shop for St. Patrick's Day and Easter. Come find the perfect gifts for the Spring season while you do a wine tasting!
March 19, 5PM-8PM:
Ladies Night, Spring Fashion Show and Closet Sale.
Complimentary wine tasting and snacks. Fashion show present by Tory's Place. Closet Sale by Michelle Sprueill.
May 10, Noon-2PM:
Mother's Day Brunch.
Five course brunch paired with delicious Plum Hill wines.
May 16-17th
Buds to Bottles,
Create a case of your own handcrafted Pinot Noir wine. Get 4 Pinot Noir plants and a spot of land. Participate in the growing and nurturing of vinifera plants.
May 24-26 2014,
11AM-5PM: Memorial Weekend in Wine Country at Plum Hill.
Tasting 6 wines paired with cheese, bread and olive plus souvenir wine glass. $5.
June 15, 2014, 1-4 PM:
Pig Roast and Pinot.
Pig roast and all the trimmings, wine tasting. Our legendary "father's day event
July 4-6, 2014:
Independence Day Wine and Watermelon.
Complimentary watermelon and watermelon toppings (yes, watermelon toppings). Wine tasting. No cover charge.
July 11, 11AM-12:30PM:
Lend An Ear.
Come out to a beautiful country setting and listen to local writers and poets read excerpts of their works while enjoying pizza from Pizzatola's brick oven.
July 24-26, 2014:
Christmas in July Barn Sale.
Community annual cooperative clearance sale, including gifts, clothing, tools, etc., from various shops in the area.
August 8, 2014 11AM -4pm:
Canine's Uncorked.
Wine tasting, dog activities at 13 wineries in or near Washington County. (503) 359-4706www.nwvinters.org $40 All proceeds to Oregon Humane Society.
August 30-September 1, 2014:
Labor Day Wine and Art Show.
Art & Wine tasting. No cover charge.
---